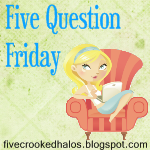 1. How many pets do you have?
We have one dog, Dodger, who in the less than one year time we have had him has taken over our hearts and our lives.
2. If you could switch places with anyone in the world for one day, who would it be?
I would love to go back and be myself on a day when my kids were still young. But just for one day.
3. What is your favorite money saving tip?
The best money saving tip for me would be to stay away from Starbucks, but that's not likely to happen.
4. What do you want your kids to be when they grow up?
My kids are grown up and they are all one of the most important things they can be-really good parents.
5. What is your favorite quote?